Wearing the proper gardening attire makes all the difference! Read this article for tips on dressing yourself in all elements.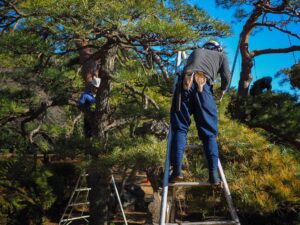 Proper Gardening Attire
If you work in the landscaping industry or just simply enjoy spending time working on your own property, you may struggle to find clothes that are comfortable to wear and that protect you from the elements. Whether you're working outside during the winter or summer, what you wear has a huge impact on your ability to get things done! If you want to know some tips on picking out proper gardening attire, read the following sections.
Always Wear Sunscreen
One of the most important steps you can take when dressing for work outdoors doesn't even involve clothes. Sunscreen is so important! No matter the weather, your skin needs to be protected from the sun. Getting a sunburn can lead to exhaustion, dehydration, and pain. Not only can it lead to a burn, but it can also lead to long-term skin issues. Save yourself from discomfort by applying sunscreen every day. 
Make sure you choose a sunscreen that has enough SPF to protect your skin. This can be anywhere from 25-80 SPF, but make sure that whatever kind you get, it is enough to keep your skin safe. You may even want to try out a few different kinds to make sure you get one that does the job well.
Wear a Hat With Good Coverage
Wearing a hat is always a good idea. This might be disappointing to hear, but your favorite baseball cap may not be the most effective option. The best hats for working outdoors will have a 360-degree brim that will cover your face and neck. The more area it covers, the better! Having a hat that covers more of your skin will also help you prevent burns, and will protect your eyes. Long exposure to the sun can be harmful to your eyes, so wearing a hat is a great way to keep them shaded. 
Wear Layers 
Wearing layers is applicable to both summer and winter seasons. Layers in the winter, (like a coat, scarf, long sleeve shirt, etc) will keep you warm and will protect you from frostbite and hypothermia. Layers in the summer (like an undershirt, and a polo) will help wick sweat and prevent chafing. The nice thing about wearing layers is that you can add to them or take them away as you need to. When you start working it may be chilly, and by the afternoon it may be extremely hot. If you have layers on, you have more flexibility with what you want to wear! It's also not a bad idea to keep an extra change of clothes handy if you aren't working at your own home.
Choose Clothes With High-Quality, Breathable Fabric
The fabric your clothes are made of has everything to do with the level of comfort you'll experience when wearing them. A shirt made of dense, stiff fabric will get hot and may irritate your skin. Breathable fabric, such as nylon or cotton, will be much more comfortable and will allow ventilation for your skin! Working outdoors usually causes sweating, so it's best to wear something that is both durable and lightweight. 
Always Size Up
A common mistake people make when choosing outdoor clothing is not accounting for the range of movements that you will be doing. A shirt may seem like it fits great, but then when you bend over or lift something above your head it may not offer the coverage you had anticipated. A simple solution to this is to buy clothes that are one size larger than you usually get. This offers more coverage, and also more comfort. A looser fit will also allow more ventilation. Comfort should definitely be your priority when dressing for work outdoors.
Don't Neglect Your Shoes
A lot of people think their everyday tennis shoes will be sufficient to get the job done. However, we definitely recommend having a designated pair of shoes that you're not afraid to get dirty when working outside. Working in the soil can get your clothes filthy, and if you're wearing your normal everyday shoes, you may be stuck wearing dirty shoes until you're able to wash them. It's better to just have shoes that are built and ready for work outside. Make sure that they're shoes you feel comfortable in. It is also really helpful to get shoes that are waterproof so you aren't limited in the work you're able to do.
Use these tips when choosing clothes to wear for working outdoors. If you have additional questions or want to talk to someone who has experience in the landscaping industry, to hesitate to give us a call!
Elite Grounds offers residential and commercial tree planting 
Reach us at 801-785-5973 or office@elitegrounds.com